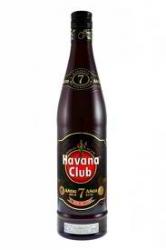 Brown rum distilled from molasses. Aged 7 years.

Slightly more flavor than the five year old, I enjoy this rum when I can get it. Hints of roasted pecans, almonds and vanilla make this a bouquet of flavor that should be enjoyed with just a little water or ice.

Bottled at 43% alcohol by volume.

Tiare's review

I find this rum really easy to drink and it does taste a lot of sugar and molasses without being heavy. Together with Appleton VX it makes a great Mai Tai to reasonable price. Easy to sip neat and easy to mix with a good rummy flavor.\r\nIts a good and versatile rum that is not too expensive. Hope you get it widely available in the US soon.

Review last updated September 26, 2009
There are 2 reviews of Havana Club Añejo 7 Años by our forum members.
There are 8 sugar cane spirits distilled by Havana Club International S.A..
Last updated November 3, 2012