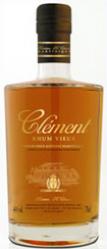 Light brown rhum agricole distilled from fresh sugar cane juice. Aged at least three years in used whisky and bourbon barrels.
Bottled at 44% alcohol by volume.

forrest's review

The scents include: baked banana, chocolate milk (yoohoo), grilled pineapple, cryptic spice (so harmonious is meld it invoke formulations rather than specific spices), creamy coconut and nuts with dried tropical fruit. The flavor follows suit but in a more focused manner. It has a medium body, replete with delicate restatements of exotic fruits baked into flaky pastries, crowned with crème anglais with temerarious peppery piquance to keep the palate spirited-- vibrant, reminds me of menthol. It ends with a honeyed, dynamic dalliance that intrigues over and over again.


Read more from forrest at a drink with forrest
Review last updated October 7, 2009
There are 2 reviews of Clément Rhum Vieux by our forum members.
There are 8 sugar cane spirits bottled by Clèment.
Last updated June 10, 2012