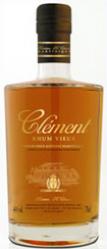 Light brown rhum agricole distilled from fresh sugar cane juice. Aged at least three years in used whisky and bourbon barrels.
Bottled at 44% alcohol by volume.

Tiare's review

The nose of this agricole is dry grass,burnt sugar and some citrus and the taste is very smooth. Its a very nice agricole and makes a wonderful Punch vieux. The bottle is really beautiful with a clean and elegant shape. A rum agricole I also would recommend for someone who hasn`t tasted agricole yet. This is a very nice rum agricole!

Review last updated October 29, 2008
There are 2 reviews of Clément Rhum Vieux by our forum members.
There are 8 sugar cane spirits bottled by Clèment.
Last updated June 10, 2012