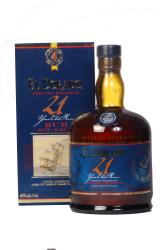 Dark brown rum distilled from molasses. Aged 21 years in used whisky and bourbon barrels.
Blended from aged stocks of pot still and continuous still rum distilled and aged in Guyana. Slightly drier than the Special Reserve 15 year old.
Bottled at 40% alcohol by volume.

Arctic Wolf's review

The 21-Year-Old Special Reserve Rum is part of a line-up of Luxury Cask Rums which also includes a 12-year-old rum, a 15-year-old rum and a 25-year-old Rum. The age Statement for the rums indicates the minimum age of the rums in the blend. You may read my review by clicking the link below:


Read more from Arctic Wolf at The Rum Howler
Review last updated January 27, 2011
There is only 1 review of El Dorado 21 year old by our forum members.
There are 24 sugar cane spirits distilled by Demerara Distillers Ltd.
Last updated June 23, 2010