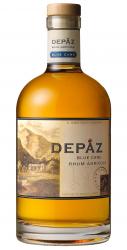 Golden brown rhum agricole distilled from fresh sugar cane juice. Aged in oak vats.

Introduced to the US in 2006, Depaz Blue Cane Amber Rum is AOC rhum agricole from the northwest side of Martinique.

Aged a couple of years in large oak vats the aroma has hints of spice and wood with a slight wood and citrus body. The finish, compared to other amber rhums from Martinique, is fairly short but characterized by balanced wood and sugar cane notes.

Bottled at 45% alcohol by volume.

Awards

Silver Medal 2008 Ministry of Rum Tasting Competition


Dood's review

In addition to the banana and grassy notes, there is a hint of vanilla that lingers on the tongue as the rhum's rather spicy finish takes the warmth of the spirit
Read more from Dood at RumDood.com
Review last updated February 22, 2009
There is only 1 review of Depaz Blue Cane Amber Rhum by our forum members.
There are 5 sugar cane spirits distilled by Depaz.
Last updated June 23, 2010