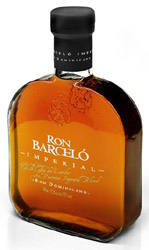 Brown rum distilled from molasses. Blend of rums aged up to 6 years in used whisky and bourbon barrels.

The premium rum from Barceló, I enjoy this smoky, robust rum with a little water. This rum is aged at a relatively low strength and tastes older than six years.

Bottled at 38% alcohol by volume.

Awards

Gold Medal - Premium Rum - 2009 Ministry of Rum Tasting Competition
Gold Medal - Premium Rum - 2007 Ministry of Rum Tasting Competition - New Orleans
Silver Medal - Premium Rums - 2006 International Sugar Cane Spirits Tasting Competition Ybor City

rumdog46's review

I found the taste to match the nose, with a light taste of buttery toffee and cocoa. Again a light fruity taste . . . Read more

Review last updated February 25, 2009
There are 3 reviews of Barceló Imperial by our forum members.
There are 6 sugar cane spirits distilled by Barceló.
Last updated June 23, 2010