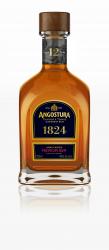 Brown rum distilled from molasses. Aged 12 years.

Named for the year Angostura was founded in Venezuela, 1824 is a real departure from the lighter rums for which Angostura is known. A full flavor rum that starts with sweet fruit and spice and ends with notes of spiced fruit.

Bottled at 43% alcohol by volume.

RumBarPhilly's review

Angostura 1824 is held in very high regard. The first time I sipped 1824 (and every time), I had a sigh of relaxation attack my torso. This rum, to me, was a true relaxant.
It's sweet vanilla flavors rest gently on your tongue, but it is the nose that attracts you. Upon removing the wax covered cork, there is a strong smell of a mix of the wax, cork, and rum that almost seems artificial. This spiced scent lingers as you drink it. It is a very smooth rum with a genuinely long finish. Cheers to Angostura!

Review last updated October 13, 2008
There is only 1 review of Angostura 1824 by our forum members.
There are 11 sugar cane spirits distilled by Angostura Ltd.
Last updated February 19, 2012