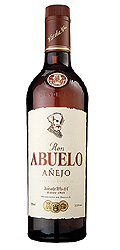 Brown rum distilled from molasses. Aged in used whisky and bourbon barrels.
Bottled at 40% alcohol by volume.

Awards

Gold Medal 2008 Ministry of Rum Tasting Competition
Silver Medal 2007 Ministry of Rum Tasting Competition

Arctic Wolf's review

Ron Abuelo Anejo rum is produced by Varela Hermanos SA in Panama, Central America. This company has a history which dates back to 1908 when Don José Varela Blanco launched the first sugar mill in the then recently formed Republic of Panama. In 1935 the site began to distill sugar cane juice for the production of liqueurs. Today the company produces an impressive array of products which includes over one million boxes of liqueurs and of course a strong variety of rum. The Ron Abuelo brand is just one brand from this wide assortment.

You may read the review by using the Link below:


Read more from Arctic Wolf at The Rum Howler
Review last updated February 24, 2011
There is only 1 review of Ron Abuelo Añejo by our forum members.
There are 10 sugar cane spirits distilled by Varela Hermanos SA.
Last updated November 13, 2011