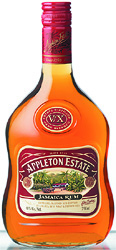 Dark gold, burnished copper rum distilled from molasses. Aged in used Jack Daniels whisky barrels.

The flagship of the Appleton Estate. This blend of 15 select aged rums is well balanced and one of the most under rated rums from Jamaica.

The rich aroma is accented with orange citrus, brown sugar-molasses, cinnamon and vanilla leading to a medium body of honey, dried apricot, dried orange and nut flavors.

The slightly smoky finish is long, subtle and complex.

I drink this rum on the rocks or with a splash of ginger ale. One of the best kept secrets from Jamaica.

Bottled at 40% alcohol by volume.

djmont's review

For my first spirits review I've chosen one of my old stand-by rums. The entry-level product from Appleton Estate, the V/X bottling is a full-bodied Jamaican rum, golden both in color and in taste. I've singled it out because it's one of the best mixing rums I've found, and also one of the most affordable.

The rum has a mild, sweet aroma with whiffs of brown sugar and vanilla. The brown sugar comes through in the flavor as well, along with a fairly strong alcohol bite. There's maybe a hint of orange in there, too.

Read the rest of the review on ProfessorCocktail.com.



Review last updated September 20, 2011
There are 2 reviews of Appleton Estate VX Jamaica Rum by our forum members.
Arctic Wolf djmont
There are 17 sugar cane spirits distilled by J. Wray & Nephew Limited.
Do you sell
Appleton Estate VX Jamaica Rum
?
Register
your business.
Update
your business profile.
Search our database of
online stores
.
Last updated June 11, 2011