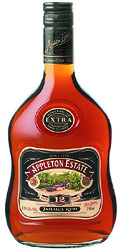 Rich, bright bronze rum distilled from molasses. Blend of rums at least 12 years old aged in used Jack Daniels Whisky barrels..

Hints of butterscotch, walnut and oak resin are orchestrated in the aroma followed by a medium body full of dried fruits, apricots, vanilla in a viscous buttery brown sugar layer before the warm regal finish highlighted with orange, smoked bacon and dry smoky oak.

Bottled at 43% alcohol by volume.

Arctic Wolf's review

Here is an excerpt from my latest review of Appleton Estate Extra 12 Year Old Jamaican Rum:

"The rum is nice and soft in my mouth. I taste a dominant trio of dark brown sugar, charred caramel, and a spicy oak. This combination asserts itself firmly into the flavour profile. I found if I was patient, and let the rum sit in my glass and then sipped very slowly, I could catch the nuances of other more subtle flavours underneath....

You may read the full review by clicking on the provided link below:


Read more from Arctic Wolf at The Rum Howler
Review last updated February 21, 2010
There is only 1 review of Appleton Estate Extra 12 Year Old Jamaica Rum by our forum members.
There are 17 sugar cane spirits distilled by J. Wray & Nephew Limited.
Do you sell
Appleton Estate Extra 12 Year Old Jamaica Rum
?
Register
your business.
Update
your business profile.
Search our database of
online stores
.
Last updated June 23, 2010