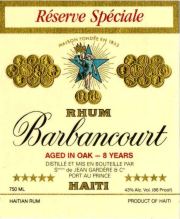 Brown rum distilled from sugar cane juice, syrup and/or molasses depending on availability. Aged 8 years.

My personal favorite of the Barbancort rums, Five Star is a tribute to the distillers art. A well balanced, smooth taste of vanilla and smoky oak in a rum that I enjoy with a little ice or water.

Bottled at 43% alcohol by volume.

Arctic Wolf's review

I am happy to report that the rhum is very nice and will in the future be a staple of my rum cabinet. Here is an excerpt from my review:

"Upon my tongue the rum feels mildly soft and buttery. In fact I believe I can taste butter alongside the light brown sugar. For spices there is only light hints of cinnamon and oak tannin which begins to taste like anise and orange peel as I let it sit in my mouth. The spiciness is very mild."

You can read the full review by clicking the link below:



Read more from Arctic Wolf at The Rum Howler
Review last updated February 19, 2010
There are 2 reviews of Barbancourt Special Reserve, Barbancourt Five Star by our forum members.
There are 4 sugar cane spirits distilled by Barbancourt.
Do you sell
Barbancourt Special Reserve, Barbancourt Five Star
?
Register
your business.
Update
your business profile.
Search our database of
online stores
.
Last updated June 23, 2010