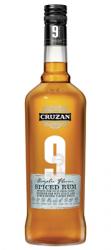 Light brown, spiced-flavored rum distilled from molasses. Aged in used whisky and bourbon barrels.

Arctic Wolf's review

The Cruzan 9 Spiced Rum is a relatively new offering, boasting 9 spices blended in an aged rum. The spices listed upon the Cruzan website are allspice, vanilla, pepper, ginger, mace, clove, nutmeg, cinnamon, and juniper berry. Click the link below to read the full review:


Read more from Arctic Wolf at The Rum Howler
Review last updated August 19, 2011
There are 2 reviews of Cruzan 9 by our forum members.
young0076 Arctic Wolf
There are 23 sugar cane spirits distilled by Cruzan Rum Distillery.
Last updated August 1, 2010